Synopsys, Inc. (NASDAQ:SNPS) issued an update on its FY17 earnings guidance on Monday morning. The company provided earnings per share guidance of $3.29-3.32 for the period, compared to the Thomson Reuters consensus earnings per share estimate of $3.31. The company issued revenue guidance of $2.67-2.69 billion, compared to the consensus revenue estimate of $2.68 billion.Synopsys also updated its Q4 guidance to 0.55-0.58 EPS.
Synopsys, Inc. (NASDAQ SNPS) traded up 0.08% during mid-day trading on Monday, hitting $79.60. The stock had a trading volume of 1,023,345 shares. The company has a market cap of $11.96 billion, a price-to-earnings ratio of 37.37 and a beta of 0.99. Synopsys, Inc. has a 12 month low of $56.03 and a 12 month high of $80.70. The firm's 50-day moving average is $77.80 and its 200 day moving average is $74.28.
Synopsys (NASDAQ:SNPS) last posted its quarterly earnings data on Wednesday, August 16th. The semiconductor company reported $0.92 earnings per share (EPS) for the quarter, meeting the Thomson Reuters' consensus estimate of $0.92. Synopsys had a return on equity of 11.60% and a net margin of 12.37%. The company had revenue of $695.40 million during the quarter, compared to analyst estimates of $691.22 million. During the same quarter last year, the company earned $0.76 earnings per share. The firm's quarterly revenue was up 13.0% on a year-over-year basis. Equities analysts anticipate that Synopsys, Inc. will post $3.31 EPS for the current fiscal year.
Synopsys announced that its Board of Directors has initiated a stock buyback program on Friday, June 16th that permits the company to buyback $500.00 million in shares. This buyback authorization permits the semiconductor company to reacquire up to 4.5% of its shares through open market purchases. Shares buyback programs are usually an indication that the company's leadership believes its stock is undervalued.
SNPS has been the subject of several research analyst reports. Credit Suisse Group reaffirmed an outperform rating on shares of Synopsys in a research note on Thursday, August 31st. BidaskClub raised Synopsys from a hold rating to a buy rating in a research note on Monday, July 31st. Zacks Investment Research lowered Synopsys from a buy rating to a hold rating in a research note on Thursday, August 24th. Royal Bank Of Canada reaffirmed an outperform rating and set a $85.00 price target (up previously from $77.00) on shares of Synopsys in a research note on Thursday, May 18th. Finally, J P Morgan Chase & Co reaffirmed an average rating on shares of Synopsys in a research note on Friday, May 26th. Three analysts have rated the stock with a hold rating, six have assigned a buy rating and one has given a strong buy rating to the stock. The company has an average rating of Buy and a consensus target price of $83.38.
In other news, EVP Joseph W. Logan sold 5,000 shares of Synopsys stock in a transaction dated Friday, August 18th. The stock was sold at an average price of $76.99, for a total value of $384,950.00. Following the transaction, the executive vice president now owns 63,793 shares in the company, valued at $4,911,423.07. The transaction was disclosed in a document filed with the SEC, which can be accessed through this link. Also, CEO Chi-Foon Chan sold 3,750 shares of Synopsys stock in a transaction dated Friday, August 18th. The stock was sold at an average price of $77.50, for a total value of $290,625.00. Following the completion of the transaction, the chief executive officer now owns 200,429 shares in the company, valued at approximately $15,533,247.50. The disclosure for this sale can be found here. 1.82% of the stock is currently owned by insiders.
COPYRIGHT VIOLATION NOTICE: "Synopsys, Inc. (SNPS) Updates FY17 Earnings Guidance" was first reported by Sports Perspectives and is the sole property of of Sports Perspectives. If you are viewing this news story on another domain, it was illegally copied and reposted in violation of U.S. and international copyright law. The legal version of this news story can be accessed at https://sportsperspectives.com/2017/09/11/synopsys-inc-snps-updates-fy17-earnings-guidance.html.
Synopsys Company Profile
Synopsys, Inc provides software, intellectual property (IP) and services. The Company supplies the electronic design automation (EDA) software that engineers use to design and test integrated circuits, also known as chips. It also offers IP products, which are pre-designed circuits that engineers use as components of larger chip designs rather than designing those circuits themselves.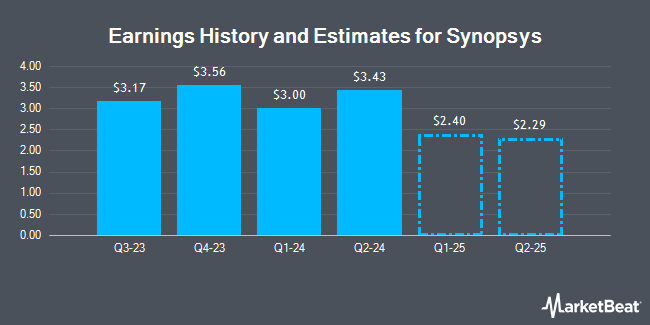 Receive News & Ratings for Synopsys Inc. Daily - Enter your email address below to receive a concise daily summary of the latest news and analysts' ratings for Synopsys Inc. and related companies with MarketBeat.com's FREE daily email newsletter.