Maple Leaf Foods Inc (TSE:MFI) insider Glen Lucien Gratton sold 1,000 shares of the company's stock in a transaction dated Tuesday, September 12th. The stock was sold at an average price of C$33.99, for a total transaction of C$33,990.00.
Shares of Maple Leaf Foods Inc (TSE:MFI) traded up 0.32% during mid-day trading on Tuesday, reaching $34.08. 109,199 shares of the company traded hands. The firm has a 50 day moving average of $34.32 and a 200-day moving average of $33.17. The stock has a market capitalization of $4.40 billion and a PE ratio of 26.11. Maple Leaf Foods Inc has a 52 week low of $27.31 and a 52 week high of $35.37.
The business also recently announced a quarterly dividend, which will be paid on Friday, September 29th. Shareholders of record on Friday, September 8th will be paid a $0.11 dividend. This represents a $0.44 annualized dividend and a yield of 1.30%. The ex-dividend date of this dividend is Thursday, September 7th. This is a positive change from Maple Leaf Foods's previous quarterly dividend of $0.08.
COPYRIGHT VIOLATION NOTICE: This report was published by Sports Perspectives and is the sole property of of Sports Perspectives. If you are viewing this report on another website, it was copied illegally and reposted in violation of US and international trademark & copyright legislation. The original version of this report can be viewed at https://sportsperspectives.com/2017/09/12/insider-selling-maple-leaf-foods-inc-mfi-insider-sells-1000-shares-of-stock.html.
Several analysts recently commented on MFI shares. BMO Capital Markets reissued a "market perform" rating and set a C$36.00 price objective on shares of Maple Leaf Foods in a research report on Monday, July 24th. TD Securities increased their price objective on shares of Maple Leaf Foods from C$39.00 to C$41.00 and gave the company a "buy" rating in a research report on Friday, July 28th.
Maple Leaf Foods Company Profile
Maple Leaf Foods Inc operates as a consumer packaged meats company in Canada. It operates in two segments, Meat Products Group and Agribusiness Group. The Meat Products Group segment offers prepared meats and meals, lunch kits, and snacks, as well as fresh pork, poultry, and turkey products. This segment markets its products primarily under the Maple Leaf, Maple Leaf Prime, Maple Leaf Natural Selections, Schneiders, Schneiders Country Naturals, Mina, Devour brand names.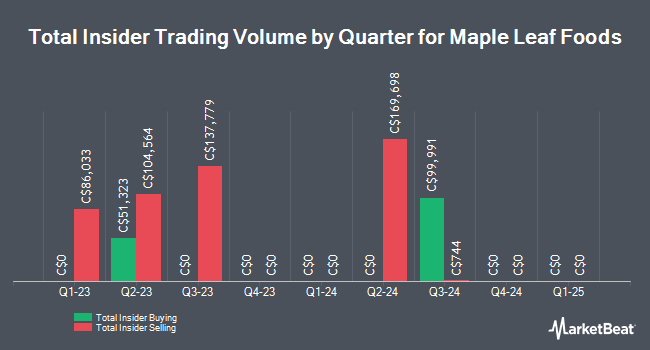 Receive News & Ratings for Maple Leaf Foods Inc Daily - Enter your email address below to receive a concise daily summary of the latest news and analysts' ratings for Maple Leaf Foods Inc and related companies with MarketBeat.com's FREE daily email newsletter.