M&T Bank Corp continued to hold its stake in shares of Xcel Brands, Inc (NASDAQ:XELB) during the second quarter, according to the company in its most recent disclosure with the Securities and Exchange Commission. The institutional investor owned 89,833 shares of the textile maker's stock at the close of the second quarter. M&T Bank Corp owned about 0.57% of Xcel Brands worth $274,000 as of its most recent SEC filing.
Separately, ARS Investment Partners LLC boosted its holdings in Xcel Brands by 18.3% in the second quarter. ARS Investment Partners LLC now owns 510,453 shares of the textile maker's stock worth $1,557,000 after acquiring an additional 79,126 shares in the last quarter. 17.26% of the stock is currently owned by hedge funds and other institutional investors.
In related news, Director Edward Jones III sold 7,500 shares of the company's stock in a transaction that occurred on Thursday, August 17th. The stock was sold at an average price of $4.14, for a total value of $31,050.00. Following the sale, the director now owns 67,382 shares in the company, valued at approximately $278,961.48. The transaction was disclosed in a document filed with the Securities & Exchange Commission, which is accessible through this link. Corporate insiders own 59.94% of the company's stock.
ILLEGAL ACTIVITY NOTICE: This article was first published by Sports Perspectives and is the sole property of of Sports Perspectives. If you are viewing this article on another domain, it was illegally stolen and reposted in violation of international copyright laws. The original version of this article can be accessed at https://sportsperspectives.com/2017/10/13/mt-bank-corp-holds-stake-in-xcel-brands-inc-xelb.html.
Xcel Brands, Inc (XELB) opened at 3.45 on Friday. The firm has a 50-day moving average price of $3.59 and a 200 day moving average price of $3.10. Xcel Brands, Inc has a one year low of $1.80 and a one year high of $5.30. The company has a market cap of $55.00 million, a price-to-earnings ratio of 24.30 and a beta of 0.68.
Xcel Brands (NASDAQ:XELB) last posted its quarterly earnings results on Wednesday, August 9th. The textile maker reported $0.08 earnings per share for the quarter, missing the consensus estimate of $0.09 by ($0.01). The company had revenue of $8.37 million during the quarter. Xcel Brands had a return on equity of 0.99% and a net margin of 8.38%. Equities analysts expect that Xcel Brands, Inc will post $0.31 earnings per share for the current fiscal year.
Separately, FBR & Co reiterated an "outperform" rating and issued a $4.00 price target on shares of Xcel Brands in a report on Tuesday, July 11th.
Xcel Brands Company Profile
Xcel Brands, Inc is a brand development and media company. The Company is engaged in the design, production, licensing, marketing, and direct to consumer sales of branded apparel, footwear, accessories, jewelry, home goods, and other consumer products, and the acquisition of consumer lifestyle brands.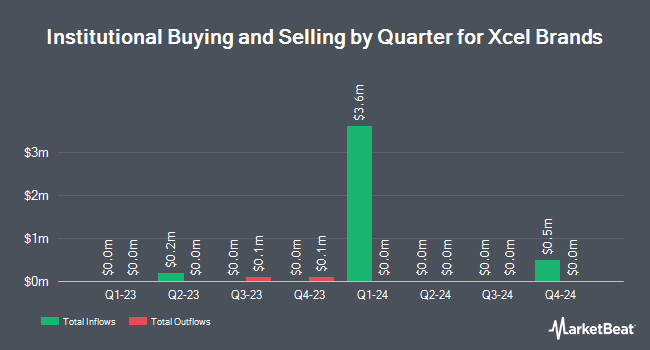 Receive News & Ratings for Xcel Brands Inc Daily - Enter your email address below to receive a concise daily summary of the latest news and analysts' ratings for Xcel Brands Inc and related companies with MarketBeat.com's FREE daily email newsletter.