Hilton Grand Vacations Inc. (NYSE:HGV) issued an update on its FY17 earnings guidance on Wednesday morning. The company provided earnings per share guidance of $1.80 to $1.98 for the period, compared to the Thomson Reuters consensus earnings per share estimate of $2.03.
Hilton Grand Vacations (NYSE:HGV) last posted its earnings results on Wednesday, November 1st. The company reported $0.43 earnings per share for the quarter, beating the Zacks' consensus estimate of $0.42 by $0.01. The company had revenue of $426.00 million for the quarter, compared to analysts' expectations of $435.83 million. The firm's quarterly revenue was up 4.7% compared to the same quarter last year. During the same period in the previous year, the firm earned $0.35 EPS.
A number of research firms have weighed in on HGV. Instinet reaffirmed a buy rating and set a $45.00 target price (up previously from $44.00) on shares of Hilton Grand Vacations in a report on Wednesday, August 9th. Zacks Investment Research raised Hilton Grand Vacations from a hold rating to a buy rating and set a $41.00 price objective for the company in a report on Tuesday, August 8th. Finally, Nomura boosted their price objective on Hilton Grand Vacations from $44.00 to $45.00 and gave the stock a buy rating in a report on Thursday, August 3rd. One equities research analyst has rated the stock with a sell rating and eight have issued a buy rating to the company's stock. The company currently has a consensus rating of Buy and a consensus price target of $38.78.
In other Hilton Grand Vacations news, Director David William Johnson acquired 28,000 shares of the business's stock in a transaction dated Thursday, August 17th. The stock was bought at an average price of $35.16 per share, with a total value of $984,480.00. Following the completion of the acquisition, the director now owns 33,000 shares of the company's stock, valued at $1,160,280. The purchase was disclosed in a legal filing with the Securities & Exchange Commission, which is available at this link. 0.46% of the stock is currently owned by insiders.
COPYRIGHT VIOLATION WARNING: This report was originally reported by Sports Perspectives and is the sole property of of Sports Perspectives. If you are viewing this report on another publication, it was illegally copied and reposted in violation of United States & international trademark & copyright laws. The legal version of this report can be viewed at https://sportsperspectives.com/2017/11/01/hilton-grand-vacations-inc-hgv-updates-fy17-earnings-guidance.html.
A hedge fund recently raised its stake in Hilton Grand Vacations stock. The Manufacturers Life Insurance Company increased its position in Hilton Grand Vacations Inc. (NYSE:HGV) by 7.3% in the second quarter, according to its most recent 13F filing with the Securities and Exchange Commission (SEC). The fund owned 2,978 shares of the company's stock after buying an additional 202 shares during the quarter. The Manufacturers Life Insurance Company 's holdings in Hilton Grand Vacations were worth $107,000 as of its most recent filing with the Securities and Exchange Commission (SEC). Institutional investors and hedge funds own 97.88% of the company's stock.
About Hilton Grand Vacations
Hilton Grand Vacations Inc is a timeshare company that markets and sells vacation ownership intervals (VOIs), manages resorts in leisure and urban destinations, and operates a points-based vacation club. The Company operates its business across two segments: Real Estate Sales and Financing, and Resort Operations and Club Management.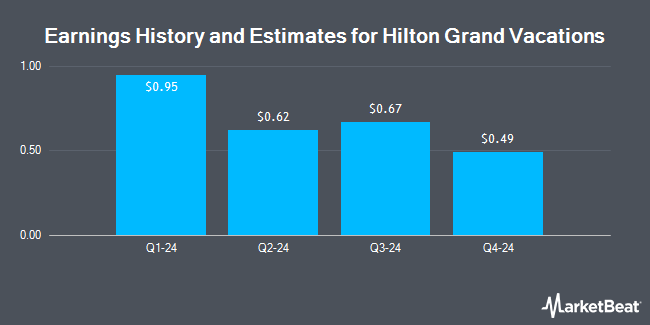 Receive News & Ratings for Hilton Grand Vacations Inc. Daily - Enter your email address below to receive a concise daily summary of the latest news and analysts' ratings for Hilton Grand Vacations Inc. and related companies with MarketBeat.com's FREE daily email newsletter.