NCR (NYSE:NCR) issued its quarterly earnings results on Thursday. The information technology services provider reported $0.92 EPS for the quarter, topping the Thomson Reuters' consensus estimate of $0.87 by $0.05, Bloomberg Earnings reports. NCR had a return on equity of 84.72% and a net margin of 5.11%. The firm had revenue of $1.78 billion during the quarter, compared to analysts' expectations of $1.75 billion. During the same period in the previous year, the business earned $1.07 earnings per share. The firm's revenue for the quarter was down 1.1% on a year-over-year basis. NCR updated its Q1 guidance to $0.41-0.47 EPS and its FY18 guidance to $3.30-3.45 EPS.
Shares of NCR (NCR) traded down $0.90 during trading hours on Thursday, reaching $33.51. The company's stock had a trading volume of 2,295,088 shares, compared to its average volume of 1,250,000. The company has a current ratio of 1.42, a quick ratio of 1.01 and a debt-to-equity ratio of 3.86. The stock has a market cap of $4,080.00, a PE ratio of 22.95 and a beta of 1.83. NCR has a 12 month low of $29.20 and a 12 month high of $49.90.
In other NCR news, EVP J. Robert Ciminera sold 1,937 shares of the company's stock in a transaction on Tuesday, January 23rd. The stock was sold at an average price of $37.36, for a total value of $72,366.32. Following the completion of the sale, the executive vice president now directly owns 6,802 shares in the company, valued at approximately $254,122.72. The sale was disclosed in a document filed with the SEC, which can be accessed through this link. 1.00% of the stock is owned by corporate insiders.
Several analysts have issued reports on the company.
ValuEngine
cut NCR from a "buy" rating to a "hold" rating in a report on Friday, February 2nd. Benchmark restated a "buy" rating and issued a $44.00 target price on shares of NCR in a report on Wednesday. DA Davidson assumed coverage on NCR in a report on Wednesday. They issued a "neutral" rating and a $39.00 target price for the company. JPMorgan Chase & Co. set a $45.00 target price on NCR and gave the company a "buy" rating in a report on Saturday, October 21st. Finally,
Zacks Investment Research
upgraded NCR from a "sell" rating to a "hold" rating in a report on Wednesday, December 20th. One equities research analyst has rated the stock with a sell rating, five have given a hold rating and six have given a buy rating to the company's stock. The stock currently has a consensus rating of "Hold" and an average price target of $45.13.
ILLEGAL ACTIVITY NOTICE: This piece was originally reported by Sports Perspectives and is owned by of Sports Perspectives. If you are viewing this piece on another website, it was illegally stolen and republished in violation of United States and international copyright and trademark law. The legal version of this piece can be accessed at https://sportsperspectives.com/2018/02/08/ncr-ncr-posts-quarterly-earnings-results-beats-expectations-by-0-05-eps.html.
About NCR
NCR Corporation is a provider of Omni-channel technology solutions that enable businesses connect, interact and transact with their customers. The Company operates through three segments: Software, Services and Hardware. It sells a portfolio of hardware, software and services that combine to provide businesses with solutions.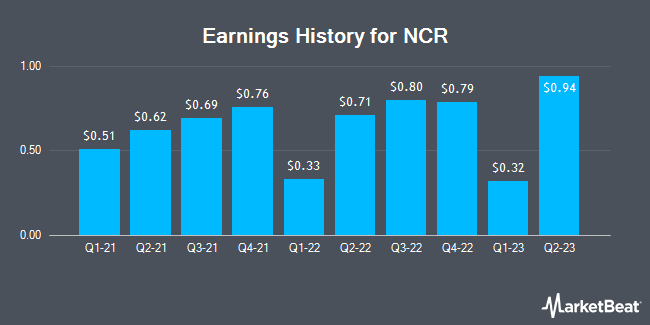 Receive News & Ratings for NCR Daily - Enter your email address below to receive a concise daily summary of the latest news and analysts' ratings for NCR and related companies with MarketBeat.com's FREE daily email newsletter.