BorgWarner (NYSE:BWA) issued an update on its FY18 earnings guidance on Thursday morning. The company provided EPS guidance of $4.25-4.35 for the period, compared to the Thomson Reuters consensus EPS estimate of $4.34. The company issued revenue guidance of $10.52-10.69 billion, compared to the consensus revenue estimate of $10.55 billion.BorgWarner also updated its Q1 guidance to $0.99-1.03 EPS.
BorgWarner (NYSE:BWA) traded up $1.27 on Friday, hitting $53.21. 144,817 shares of the stock were exchanged, compared to its average volume of 1,522,002. The stock has a market capitalization of $11,596.12, a price-to-earnings ratio of 37.64, a P/E/G ratio of 1.51 and a beta of 1.82. BorgWarner has a 12 month low of $37.54 and a 12 month high of $58.22. The company has a debt-to-equity ratio of 0.53, a current ratio of 1.43 and a quick ratio of 1.10.
BorgWarner (NYSE:BWA) last posted its quarterly earnings data on Thursday, February 8th. The auto parts company reported $1.07 earnings per share (EPS) for the quarter, beating analysts' consensus estimates of $1.01 by $0.06. The company had revenue of $2.59 billion for the quarter, compared to analyst estimates of $2.53 billion. BorgWarner had a net margin of 3.09% and a return on equity of 21.48%. The business's quarterly revenue was up 14.5% on a year-over-year basis. During the same quarter last year, the firm posted $0.85 earnings per share. analysts forecast that BorgWarner will post 3.84 earnings per share for the current year.
The company also recently disclosed a quarterly dividend, which will be paid on Thursday, March 15th. Stockholders of record on Thursday, March 1st will be paid a dividend of $0.17 per share. This represents a $0.68 dividend on an annualized basis and a dividend yield of 1.28%. BorgWarner's dividend payout ratio is currently 49.28%.
A number of analysts have recently issued reports on BWA shares. Zacks Investment Research upgraded shares of BorgWarner from a hold rating to a buy rating and set a $58.00 price objective on the stock in a research note on Tuesday, December 26th. Deutsche Bank lowered shares of BorgWarner from a buy rating to a hold rating and set a $55.00 price objective on the stock. in a research note on Thursday, October 12th. Royal Bank of Canada reiterated a hold rating and set a $61.00 price objective on shares of BorgWarner in a research note on Wednesday, December 20th. Oppenheimer initiated coverage on shares of BorgWarner in a research note on Thursday, December 7th. They issued an outperform rating and a $63.00 price target for the company. Finally, Citigroup lifted their price target on shares of BorgWarner from $50.00 to $54.00 and gave the stock a neutral rating in a research note on Monday, October 30th. Two research analysts have rated the stock with a sell rating, eight have assigned a hold rating and nine have given a buy rating to the stock. The stock presently has a consensus rating of Hold and an average price target of $52.59.
In related news, EVP John J. Gasparovic sold 38,409 shares of BorgWarner stock in a transaction on Monday, December 18th. The shares were sold at an average price of $52.60, for a total value of $2,020,313.40. Following the completion of the sale, the executive vice president now owns 63,937 shares in the company, valued at $3,363,086.20. The sale was disclosed in a legal filing with the SEC, which can be accessed through this link. Also, VP Joel Wiegert sold 1,400 shares of BorgWarner stock in a transaction on Monday, December 18th. The stock was sold at an average price of $52.35, for a total transaction of $73,290.00. Following the completion of the sale, the vice president now owns 16,197 shares of the company's stock, valued at approximately $847,912.95. The disclosure for this sale can be found here. 0.66% of the stock is currently owned by insiders.
TRADEMARK VIOLATION NOTICE: This piece was reported by Sports Perspectives and is the property of of Sports Perspectives. If you are accessing this piece on another site, it was illegally stolen and reposted in violation of U.S. and international copyright law. The legal version of this piece can be read at https://sportsperspectives.com/2018/02/09/borgwarner-bwa-issues-fy18-earnings-guidance.html.
BorgWarner Company Profile
BorgWarner Inc is engaged in providing technology solutions for combustion, hybrid and electric vehicles. The Company's segments include Engine and Drivetrain. The Engine segment's products include turbochargers, timing devices and chains, emissions systems and thermal systems. The Engine segment develops and manufactures products for gasoline and diesel engines, and alternative powertrains.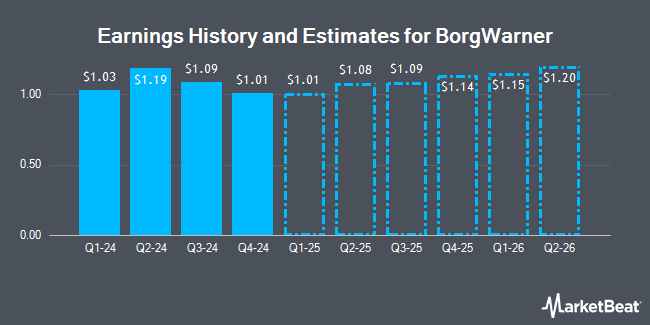 Receive News & Ratings for BorgWarner Daily - Enter your email address below to receive a concise daily summary of the latest news and analysts' ratings for BorgWarner and related companies with MarketBeat.com's FREE daily email newsletter.