FirstService Corp (TSE:FSV) (NASDAQ:FSV) Director Joan Eloise Sproul purchased 100 shares of the company's stock in a transaction on Tuesday, September 11th. The stock was purchased at an average price of C$114.72 per share, with a total value of C$11,472.00.
Shares of FSV traded down C$0.36 during mid-day trading on Friday, reaching C$111.40. The stock had a trading volume of 25,200 shares, compared to its average volume of 43,831. FirstService Corp has a 12 month low of C$78.15 and a 12 month high of C$115.17.
FirstService (TSE:FSV) (NASDAQ:FSV) last issued its earnings results on Wednesday, July 25th. The company reported C$0.80 earnings per share for the quarter, topping the Zacks' consensus estimate of C$0.69 by C$0.11. FirstService had a net margin of 4.63% and a return on equity of 31.83%. The firm had revenue of C$639.30 million during the quarter, compared to analyst estimates of C$617.02 million.
The business also recently announced a quarterly dividend, which will be paid on Friday, October 5th. Investors of record on Friday, September 28th will be given a dividend of $0.176 per share. This is a positive change from FirstService's previous quarterly dividend of $0.17. The ex-dividend date of this dividend is Thursday, September 27th. This represents a $0.70 dividend on an annualized basis and a dividend yield of 0.63%.
FirstService Company Profile
FirstService Corporation provides property services to residential and commercial customers in the United States and Canada. The company operates through two segments, FirstService Residential and FirstService Brands. The FirstService Residential segment manages private residential communities, such as condominiums, co-operatives, homeowner associations, master-planned communities, active adult and lifestyle communities, and various other residential developments.
Featured Story: What is Compound Annual Growth Rate (CAGR)?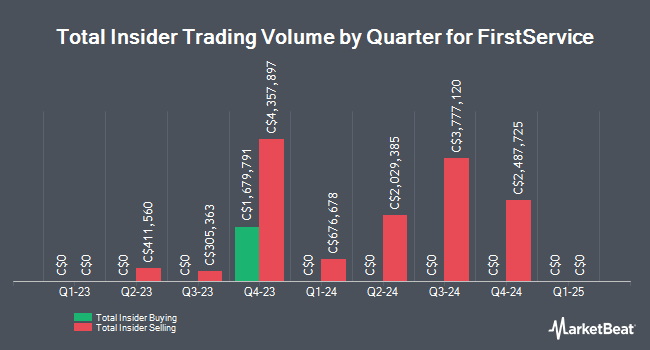 Receive News & Ratings for FirstService Daily - Enter your email address below to receive a concise daily summary of the latest news and analysts' ratings for FirstService and related companies with MarketBeat.com's FREE daily email newsletter.