OneMain (NYSE:OMF) is set to release its earnings data after the market closes on Wednesday, October 31st. Analysts expect OneMain to post earnings of $1.28 per share for the quarter.
OneMain (NYSE:OMF) last issued its earnings results on Monday, July 30th. The financial services provider reported $1.18 EPS for the quarter, beating analysts' consensus estimates of $1.14 by $0.04. The business had revenue of $685.00 million during the quarter, compared to analyst estimates of $676.82 million. OneMain had a return on equity of 17.55% and a net margin of 6.41%. During the same period in the prior year, the company posted $0.81 earnings per share. On average, analysts expect OneMain to post $5 EPS for the current fiscal year and $6 EPS for the next fiscal year.
Shares of NYSE OMF opened at $27.47 on Tuesday. The firm has a market capitalization of $3.74 billion, a P/E ratio of 6.36, a PEG ratio of 0.74 and a beta of 2.71. OneMain has a one year low of $23.68 and a one year high of $37.29.
In other OneMain news, SVP Michael A. Hedlund sold 2,500 shares of the company's stock in a transaction on Thursday, August 16th. The stock was sold at an average price of $35.41, for a total value of $88,525.00. Following the sale, the senior vice president now directly owns 7,644 shares in the company, valued at $270,674.04. The sale was disclosed in a document filed with the Securities & Exchange Commission, which is accessible through
this hyperlink
. Corporate insiders own 43.93% of the company's stock.
A number of brokerages recently commented on OMF. Zacks Investment Research upgraded OneMain from a "hold" rating to a "buy" rating and set a $38.00 target price for the company in a research note on Thursday, July 5th. BMO Capital Markets upped their target price on OneMain from $41.00 to $43.00 and gave the company an "outperform" rating in a research note on Wednesday, August 1st. Barclays upped their target price on OneMain from $39.00 to $40.00 and gave the company a "hold" rating in a research note on Wednesday, August 1st. Finally, ValuEngine lowered OneMain from a "hold" rating to a "sell" rating in a research note on Monday, October 8th. Two analysts have rated the stock with a sell rating, two have assigned a hold rating and ten have issued a buy rating to the stock. OneMain has an average rating of "Buy" and an average price target of $37.75.
About OneMain
OneMain Holdings, Inc, through its subsidiaries, provides consumer finance and insurance products and services. The company operates in two segments, Consumer and Insurance, and Acquisitions and Servicing. It provides secured and unsecured personal loans; credit insurance products, such as life, disability, and involuntary unemployment insurance products; non-credit insurance; and auto membership plans, as well as retail sales finance services.
Recommended Story: Determine Your Level of Risk Tolerance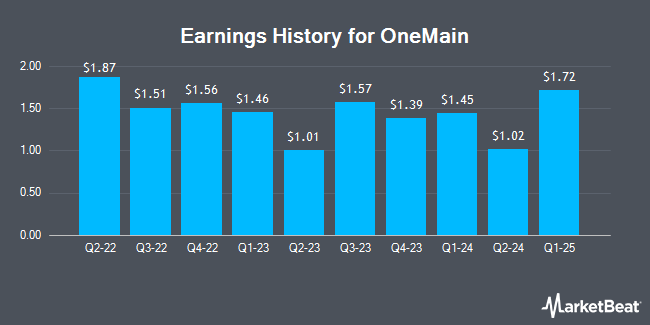 Receive News & Ratings for OneMain Daily - Enter your email address below to receive a concise daily summary of the latest news and analysts' ratings for OneMain and related companies with MarketBeat.com's FREE daily email newsletter.