ProAssurance (NYSE:PRA) is scheduled to release its earnings data after the market closes on Tuesday, November 6th. Analysts expect ProAssurance to post earnings of $0.41 per share for the quarter.
ProAssurance (NYSE:PRA) last issued its quarterly earnings results on Tuesday, August 7th. The insurance provider reported $0.48 earnings per share (EPS) for the quarter, beating the Thomson Reuters' consensus estimate of $0.39 by $0.09. The company had revenue of $248.02 million for the quarter, compared to the consensus estimate of $219.98 million. ProAssurance had a return on equity of 6.14% and a net margin of 9.67%. During the same period last year, the business posted $0.40 earnings per share. On average, analysts expect ProAssurance to post $2 EPS for the current fiscal year and $2 EPS for the next fiscal year.
Shares of NYSE:PRA opened at $43.41 on Tuesday. The stock has a market capitalization of $2.30 billion, a PE ratio of 21.49 and a beta of 0.63. ProAssurance has a 52-week low of $34.95 and a 52-week high of $63.45. The company has a debt-to-equity ratio of 0.18, a quick ratio of 0.35 and a current ratio of 0.35.
The firm also recently declared a quarterly dividend, which was paid on Wednesday, October 10th. Stockholders of record on Friday, September 28th were given a $0.31 dividend. This represents a $1.24 annualized dividend and a dividend yield of 2.86%. The ex-dividend date of this dividend was Thursday, September 27th. ProAssurance's dividend payout ratio is currently 61.39%.
Several brokerages have recently issued reports on PRA. Zacks Investment Research raised ProAssurance from a "strong sell" rating to a "hold" rating in a research report on Friday, August 10th. ValuEngine raised ProAssurance from a "sell" rating to a "hold" rating in a research report on Wednesday, August 15th. Sandler O'Neill reaffirmed a "hold" rating and issued a $44.00 price target on shares of ProAssurance in a research report on Thursday, August 9th. Boenning Scattergood reaffirmed a "hold" rating on shares of ProAssurance in a research report on Wednesday, August 8th. Finally, JMP Securities raised their price target on ProAssurance from $50.00 to $52.00 and gave the company a "market outperform" rating in a research report on Friday, September 21st. Seven equities research analysts have rated the stock with a hold rating and one has given a buy rating to the stock. The company presently has a consensus rating of "Hold" and a consensus price target of $50.50.
About ProAssurance
ProAssurance Corporation, through its subsidiaries, provides property and casualty insurance, and reinsurance products in the United States. The company operates through Specialty Property and Casualty, Workers' Compensation, and Lloyd's Syndicate segments. It offers professional liability insurance for healthcare professionals and facilities; professional liability insurance for attorneys; liability insurance for medical technology and life sciences risks; and workers' compensation insurance for employers, groups, and associations.
Recommended Story: What is the NASDAQ?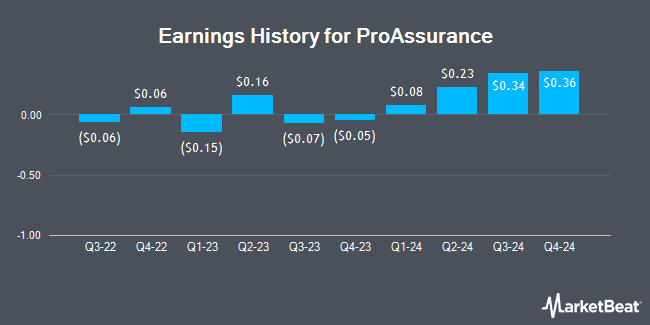 Receive News & Ratings for ProAssurance Daily - Enter your email address below to receive a concise daily summary of the latest news and analysts' ratings for ProAssurance and related companies with MarketBeat.com's FREE daily email newsletter.