Wall Street analysts expect Boxlight Corp (NASDAQ:BOXL) to report earnings of $0.04 per share for the current quarter, according to Zacks Investment Research. Two analysts have made estimates for Boxlight's earnings, with the highest EPS estimate coming in at $0.06 and the lowest estimate coming in at $0.02. The business is expected to report its next quarterly earnings results after the market closes on Tuesday, November 13th.
On average, analysts expect that Boxlight will report full year earnings of ($0.57) per share for the current fiscal year, with EPS estimates ranging from ($0.65) to ($0.49). For the next fiscal year, analysts forecast that the company will report earnings of ($0.20) per share, with EPS estimates ranging from ($0.24) to ($0.15). Zacks Investment Research's EPS calculations are a mean average based on a survey of sell-side research analysts that follow Boxlight.
Boxlight (NASDAQ:BOXL) last issued its earnings results on Thursday, August 16th. The company reported ($0.13) earnings per share for the quarter, topping the consensus estimate of ($0.14) by $0.01. The firm had revenue of $9.66 million during the quarter, compared to the consensus estimate of $7.06 million.
Separately,
Zacks Investment Research
raised shares of Boxlight from a "hold" rating to a "buy" rating and set a $4.00 target price for the company in a report on Tuesday, July 31st.
Boxlight stock traded up $0.10 during mid-day trading on Wednesday, hitting $1.80. The stock had a trading volume of 15,641 shares, compared to its average volume of 217,560. The company has a market capitalization of $18.18 million and a P/E ratio of -1.34. The company has a debt-to-equity ratio of 0.06, a quick ratio of 0.61 and a current ratio of 0.86. Boxlight has a one year low of $1.57 and a one year high of $17.40.
About Boxlight
Boxlight Corporation, a visual display technology company, sells educational products for the learning market in the United States and internationally. The company designs, produces, and distributes a range of interactive classroom technology products primarily targeted at the K-12 education market. Its products include interactive projectors, interactive flat panel displays, interactive touch projectors, touchboards, and MimioTeach that could turn any whiteboard interactive; and accessory document cameras, teacher pads for remote control, and assessment systems.
Recommended Story: How can you know how many shares are floating?
Get a free copy of the Zacks research report on Boxlight (BOXL)
For more information about research offerings from Zacks Investment Research, visit Zacks.com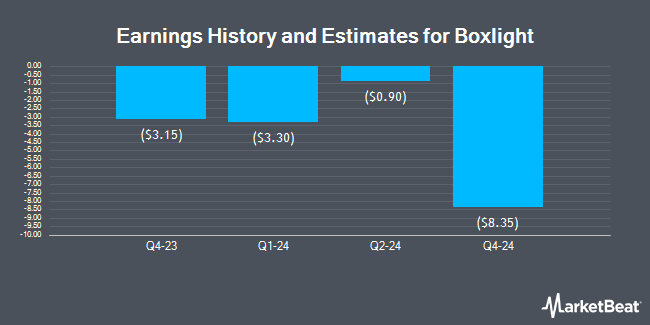 Receive News & Ratings for Boxlight Daily - Enter your email address below to receive a concise daily summary of the latest news and analysts' ratings for Boxlight and related companies with MarketBeat.com's FREE daily email newsletter.