CNX Resources (NYSE:CNX) announced its earnings results on Tuesday. The oil and gas producer reported $0.17 earnings per share (EPS) for the quarter, missing the Thomson Reuters' consensus estimate of $0.19 by ($0.02), MarketWatch Earnings reports. CNX Resources had a net margin of 40.07% and a return on equity of 2.37%. The business had revenue of $397.10 million for the quarter, compared to analyst estimates of $376.23 million. During the same period in the prior year, the company earned ($0.11) earnings per share. The company's quarterly revenue was up 38.3% on a year-over-year basis.
CNX Resources stock traded up $1.33 during trading hours on Wednesday, hitting $15.60. 384,442 shares of the stock traded hands, compared to its average volume of 2,981,423. The company has a debt-to-equity ratio of 0.47, a quick ratio of 0.65 and a current ratio of 0.67. The company has a market cap of $2.88 billion, a PE ratio of -97.38 and a beta of 1.02. CNX Resources has a 1 year low of $11.69 and a 1 year high of $18.37.
Several research analysts recently issued reports on the company. Zacks Investment Research lowered CNX Resources from a "hold" rating to a "sell" rating in a research report on Wednesday, July 11th. Raymond James reiterated a "sell" rating on shares of CNX Resources in a research note on Thursday, August 30th. ValuEngine downgraded CNX Resources from a "hold" rating to a "sell" rating in a research note on Saturday, July 28th. Finally, Goldman Sachs Group downgraded CNX Resources from a "neutral" rating to a "sell" rating and set a $14.00 price target on the stock. in a research note on Tuesday, September 11th. They noted that the move was a valuation call. Three investment analysts have rated the stock with a sell rating, three have assigned a hold rating and six have assigned a buy rating to the company's stock. The stock presently has an average rating of "Hold" and an average price target of $21.50.
In other news, Director J. Palmer Clarkson purchased 10,000 shares of the company's stock in a transaction on Thursday, August 16th. The shares were acquired at an average price of $14.90 per share, for a total transaction of $149,000.00. The acquisition was disclosed in a legal filing with the SEC, which is accessible through
this hyperlink
. 2.00% of the stock is currently owned by insiders.
About CNX Resources
CNX Resources Corporation, an independent oil and natural gas company, explores for, develops, and produces natural gas in the Appalachian Basin. As of December 31, 2017, it had 7.6 trillion cubic feet equivalent of proved natural gas reserves. The company also owns, operates, and develops natural gas gathering and other midstream energy assets in the Marcellus Shale in Pennsylvania and West Virginia.
Featured Article: Understanding Market Liquidity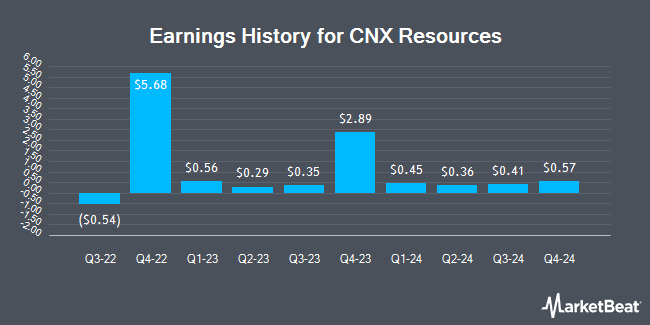 Receive News & Ratings for CNX Resources Daily - Enter your email address below to receive a concise daily summary of the latest news and analysts' ratings for CNX Resources and related companies with MarketBeat.com's FREE daily email newsletter.