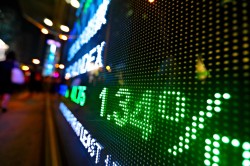 LiveRamp Holdings (NASDAQ:RAMP) shares traded down 8.2% on Monday following a weaker than expected earnings announcement. The company traded as low as $40.50 and last traded at $41.71. 2,462,895 shares traded hands during mid-day trading, an increase of 184% from the average session volume of 868,176 shares. The stock had previously closed at $45.45.
The company reported ($0.14) earnings per share (EPS) for the quarter, missing the Zacks' consensus estimate of $0.03 by ($0.17). The firm had revenue of $65.00 million for the quarter, compared to analyst estimates of $227.11 million. During the same period last year, the firm earned $0.22 earnings per share. The firm's quarterly revenue was up 20.4% on a year-over-year basis.
Separately, TheStreet lowered shares of LiveRamp from a "b-" rating to a "c+" rating in a report on Wednesday, October 17th.
An institutional investor recently bought a new position in LiveRamp stock. Lathrop Investment Management Corp bought a new position in shares of LiveRamp Holdings (NASDAQ:RAMP) in the third quarter, according to the company in its most recent disclosure with the Securities and Exchange Commission (SEC). The institutional investor bought 7,828 shares of the company's stock, valued at approximately $387,000.
LiveRamp Company Profile (NASDAQ:RAMP)
LiveRamp Holdings, Inc provides identity and data connectivity for powering exceptional customer experiences. The company offers IdentityLink, an identity resolution platform that connects people, data, and devices across the physical and digital world, powering privacy-compliant, people-based marketing that allows consumers to better connect with the brands and products they love.
Further Reading: How can you know how many shares are floating?
Receive News & Ratings for LiveRamp Daily - Enter your email address below to receive a concise daily summary of the latest news and analysts' ratings for LiveRamp and related companies with MarketBeat.com's FREE daily email newsletter.