TE Connectivity (NYSE:TEL) updated its FY19 earnings guidance on Wednesday. The company provided earnings per share guidance of $5.60-5.80 for the period, compared to the Thomson Reuters consensus earnings per share estimate of $5.98. The company issued revenue guidance of $13.9-14.3 billion, compared to the consensus revenue estimate of $15.09 billion.TE Connectivity also updated its FY 2019 guidance to $5.60-5.80 EPS.
Several brokerages have recently commented on TEL. Zacks Investment Research lowered TE Connectivity from a buy rating to a hold rating in a report on Saturday, July 7th. Morgan Stanley cut their price objective on TE Connectivity from $117.00 to $116.00 and set an overweight rating for the company in a report on Thursday, July 26th. Wells Fargo & Co cut their price objective on TE Connectivity from $120.00 to $115.00 and set an outperform rating for the company in a report on Tuesday, July 17th. Royal Bank of Canada set a $103.00 price objective on TE Connectivity and gave the stock a buy rating in a report on Monday. Finally, Macquarie started coverage on TE Connectivity in a report on Monday, October 8th. They set an outperform rating for the company. Two research analysts have rated the stock with a sell rating, three have assigned a hold rating and nine have given a buy rating to the stock. The company presently has an average rating of Buy and a consensus price target of $110.45.
TEL traded down $2.75 during midday trading on Wednesday, hitting $75.42. The stock had a trading volume of 5,473,143 shares, compared to its average volume of 1,837,504. The firm has a market cap of $26.09 billion, a P/E ratio of 15.61, a P/E/G ratio of 1.16 and a beta of 1.01. The company has a debt-to-equity ratio of 0.35, a current ratio of 1.47 and a quick ratio of 0.98. TE Connectivity has a 1 year low of $73.70 and a 1 year high of $108.23.
TE Connectivity (NYSE:TEL) last issued its earnings results on Wednesday, October 31st. The electronics maker reported $1.35 earnings per share (EPS) for the quarter, topping the Thomson Reuters' consensus estimate of $1.33 by $0.02. The business had revenue of $3.51 billion during the quarter, compared to analyst estimates of $3.65 billion. TE Connectivity had a return on equity of 20.33% and a net margin of 9.26%. TE Connectivity's revenue for the quarter was up 8.5% on a year-over-year basis. During the same quarter in the prior year, the firm earned $1.25 earnings per share. On average, equities analysts anticipate that TE Connectivity will post 5.59 earnings per share for the current year.
TE Connectivity Company Profile
TE Connectivity Ltd., together with its subsidiaries, engages in the design, manufacture, and sale of connectivity and sensors solutions in the Americas, Europe, the Middle East, Africa, and the Asia–Pacific. The company operates through three segments: Transportation Solutions, Industrial Solutions, and Communications Solutions.
Recommended Story: Why Dividend Stocks May Be Right for You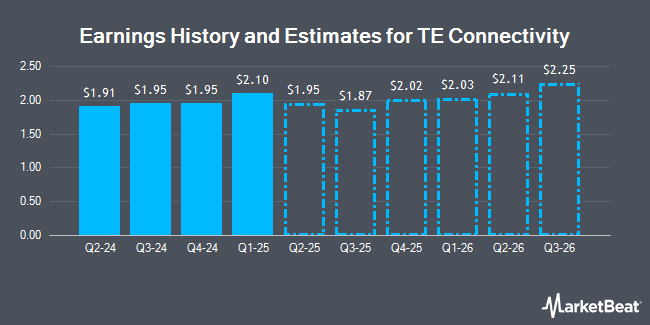 Receive News & Ratings for TE Connectivity Daily - Enter your email address below to receive a concise daily summary of the latest news and analysts' ratings for TE Connectivity and related companies with MarketBeat.com's FREE daily email newsletter.