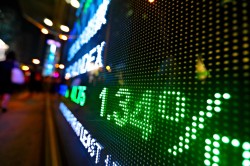 Alvopetro Energy Ltd (CVE:ALV) shares hit a new 52-week high on Thursday . The stock traded as high as C$0.60 and last traded at C$0.53, with a volume of 26200 shares trading hands. The stock had previously closed at C$0.51.
Alvopetro Energy (CVE:ALV) last announced its earnings results on Wednesday, August 15th. The company reported C($0.01) earnings per share for the quarter, meeting the consensus estimate of C($0.01). The firm had revenue of C$0.28 million during the quarter.
Alvopetro Energy Company Profile (CVE:ALV)
Alvopetro Energy Ltd. engages in the acquisition, exploration, development, and production of hydrocarbons in the Recôncavo and Camamu-Almada basins in onshore Brazil. The company was incorporated in 2013 and is headquartered in Calgary, Canada.
Featured Story: Understanding Analyst Recommendations

Receive News & Ratings for Alvopetro Energy Daily - Enter your email address below to receive a concise daily summary of the latest news and analysts' ratings for Alvopetro Energy and related companies with MarketBeat.com's FREE daily email newsletter.