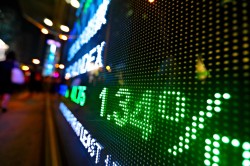 Point Loma Resources Ltd (CVE:PLX) insider Bruce Mitchell purchased 100,000 shares of the firm's stock in a transaction dated Wednesday, October 31st. The shares were bought at an average price of C$0.21 per share, with a total value of C$21,000.00.
Point Loma Resources stock opened at C$0.24 on Thursday. Point Loma Resources Ltd has a 1-year low of C$0.17 and a 1-year high of C$0.37.
Point Loma Resources (CVE:PLX) last released its quarterly earnings data on Thursday, August 23rd. The company reported C($0.03) earnings per share for the quarter, missing analysts' consensus estimates of C($0.02) by C($0.01). Point Loma Resources had a negative net margin of 58.31% and a negative return on equity of 42.96%. The business had revenue of C$1.50 million during the quarter.
Point Loma Resources Company Profile
Point Loma Resources Ltd. engages in the acquisition, development, and production of petroleum and natural gas reserves in the province of Alberta, Canada. The company holds interests in approximately 160,000 net acres and has an inventory of opportunities in the Mannville, Nordegg, Banff, and Duvernay Shale formations in west central Alberta.
Recommended Story: How to Invest in Growth Stocks
Receive News & Ratings for Point Loma Resources Daily - Enter your email address below to receive a concise daily summary of the latest news and analysts' ratings for Point Loma Resources and related companies with MarketBeat.com's FREE daily email newsletter.