Aqua Metals (NASDAQ:AQMS) posted its earnings results on Wednesday. The business services provider reported ($0.24) earnings per share (EPS) for the quarter, missing the consensus estimate of ($0.22) by ($0.02), Fidelity Earnings reports. Aqua Metals had a negative net margin of 833.24% and a negative return on equity of 52.14%.
Shares of AQMS traded down $0.16 during trading hours on Thursday, hitting $2.25. The stock had a trading volume of 345,543 shares, compared to its average volume of 679,576. The company has a debt-to-equity ratio of 0.12, a current ratio of 6.27 and a quick ratio of 6.07. Aqua Metals has a fifty-two week low of $1.42 and a fifty-two week high of $4.28. The stock has a market cap of $85.79 million, a P/E ratio of -1.89 and a beta of 0.18.
Several equities analysts recently issued reports on AQMS shares. ValuEngine cut shares of Aqua Metals from a "buy" rating to a "hold" rating in a research note on Thursday, November 1st. Zacks Investment Research upgraded shares of Aqua Metals from a "sell" rating to a "hold" rating in a research note on Tuesday, October 9th. National Securities set a $10.00 target price on shares of Aqua Metals and gave the company a "buy" rating in a research note on Thursday. Finally, HC Wainwright reiterated a "buy" rating and issued a $4.00 target price on shares of Aqua Metals in a research note on Thursday, August 9th. Two research analysts have rated the stock with a hold rating and five have issued a buy rating to the stock. The company has a consensus rating of "Buy" and an average target price of $14.40.
TRADEMARK VIOLATION NOTICE: This story was first posted by Sports Perspectives and is the property of of Sports Perspectives. If you are accessing this story on another website, it was illegally stolen and republished in violation of United States and international trademark and copyright law. The legal version of this story can be accessed at https://sportsperspectives.com/2018/11/08/aqua-metals-aqms-posts-quarterly-earnings-results-misses-estimates-by-0-02-eps.html.
About Aqua Metals
Aqua Metals, Inc engages in the recycling of lead primarily in the United States. It produces and sells hard lead, lead compounds, and plastics. The company was founded in 2014 and is headquartered in Alameda, California.
Further Reading: What is a Swap?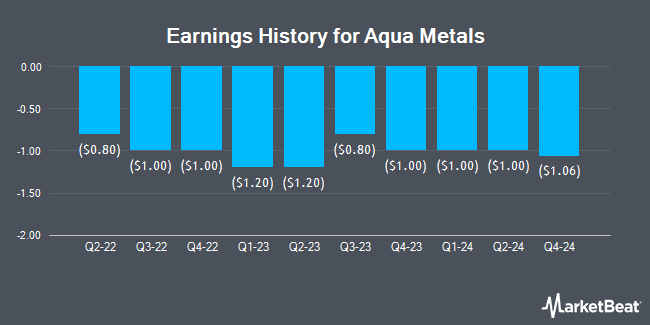 Receive News & Ratings for Aqua Metals Daily - Enter your email address below to receive a concise daily summary of the latest news and analysts' ratings for Aqua Metals and related companies with MarketBeat.com's FREE daily email newsletter.