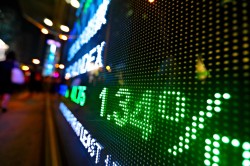 SOLVAY S A/S (OTCMKTS:SOLVY) was upgraded by equities researchers at Deutsche Bank from a "sell" rating to a "hold" rating in a report issued on Thursday, The Fly reports.
Separately, Jefferies Financial Group began coverage on shares of SOLVAY S A/S in a report on Wednesday, October 3rd. They set a "buy" rating for the company.
SOLVY stock traded down $0.56 during trading on Thursday, hitting $11.27. 100 shares of the company's stock traded hands, compared to its average volume of 4,319. SOLVAY S A/S has a 52 week low of $11.18 and a 52 week high of $15.11.
SOLVAY S A/S Company Profile
Solvay SA engages in the chemical business worldwide. The company offers advanced formulations, such as surfactants, amines, polymers, and guar and phosphorous derivatives; specialty mining reagent solutions, phosphine-based chemistry solutions, and solutions for stabilization of polymers; vanillin for food, flavors, and fragrances industries; and synthetic intermediates used in perfumery, pharmaceuticals, agrochemicals, and electronics.
Read More: Insider Trading

Receive News & Ratings for SOLVAY S A/S Daily - Enter your email address below to receive a concise daily summary of the latest news and analysts' ratings for SOLVAY S A/S and related companies with MarketBeat.com's FREE daily email newsletter.