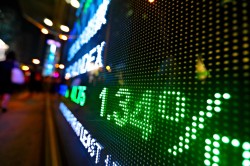 Equities researchers at Janney Montgomery Scott initiated coverage on shares of Taiwan Liposome (NASDAQ:TLC) in a report released on Monday, MarketBeat Ratings reports. The brokerage set a "buy" rating on the stock.
Separately, HC Wainwright initiated coverage on Taiwan Liposome in a research note on Monday. They issued a "buy" rating and a $9.00 price target on the stock.
TLC opened at $5.87 on Monday. Taiwan Liposome has a 1-year low of $5.80 and a 1-year high of $8.16.
Taiwan Liposome Company Profile
Taiwan Liposome Company, Ltd., a biopharmaceutical company, engages in the research, development, and commercialization of lipid-based pharmaceutical products. The company offers products in the areas of oncology, ophthalmology, peripheral arterial disease, fungal infection, anesthetic, and arthritis indications.
See Also: What are the components of an earnings report?

Receive News & Ratings for Taiwan Liposome Daily - Enter your email address below to receive a concise daily summary of the latest news and analysts' ratings for Taiwan Liposome and related companies with MarketBeat.com's FREE daily email newsletter.