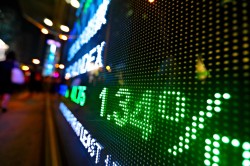 Renaissance Oil (CVE:ROE) had its price objective decreased by Canaccord Genuity from C$0.80 to C$0.50 in a research note issued on Thursday. Canaccord Genuity's price objective indicates a potential upside of 212.50% from the company's previous close.
Shares of CVE:ROE opened at C$0.16 on Thursday. Renaissance Oil has a 52-week low of C$0.13 and a 52-week high of C$0.34.
About Renaissance Oil
Renaissance Oil Corp. engages in the acquisition, exploration, and development of oil and gas properties in Canada and Mexico. It holds interests in the Mundo Nuevo block covering an area of 27.7 square kilometers; Topén block 0covering an area of 25.3 square kilometers; and Malva block covering an area of 21.2 square kilometers located in Chiapas, Mexico, as well as Pontón block covering an area of 12 square kilometers located in the state of Veracruz, Mexico.
Featured Story: Diversification in Investing
Receive News & Ratings for Renaissance Oil Daily - Enter your email address below to receive a concise daily summary of the latest news and analysts' ratings for Renaissance Oil and related companies with MarketBeat.com's FREE daily email newsletter.