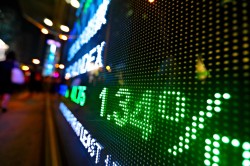 Auxly Cannabis Group (CVE:XLY) was downgraded by equities research analysts at AltaCorp Capital from an "outperform" rating to a "speculative" rating in a research report issued on Monday, Zacks.com reports.
Auxly Cannabis Group stock opened at C$0.84 on Monday. Auxly Cannabis Group has a 12-month low of C$0.60 and a 12-month high of C$1.69. The stock has a market cap of $487.94 million and a price-to-earnings ratio of -8.40. The company has a debt-to-equity ratio of 25.37, a quick ratio of 13.85 and a current ratio of 15.31.
About Auxly Cannabis Group
Auxly Cannabis Group Inc operates as a cannabis streaming company. It provides funding for cannabis production; and holds contractual rights and minority equity interest relating to the operation of cannabis facilities. The company was formerly known as Cannabis Wheaton Income Corp. and changed its name to Auxly Cannabis Group Inc in June 2018.
Further Reading: What are gap-up stocks?
Receive News & Ratings for Auxly Cannabis Group Daily - Enter your email address below to receive a concise daily summary of the latest news and analysts' ratings for Auxly Cannabis Group and related companies with MarketBeat.com's FREE daily email newsletter.