Flowers Foods (NYSE:FLO) issued an update on its FY19 earnings guidance on Wednesday morning. The company provided EPS guidance of $0.94-$1.02 for the period, compared to the Thomson Reuters consensus EPS estimate of $0.97. The company issued revenue guidance of $4.03-$4.109 billion, compared to the consensus revenue estimate of $4.06 billion.Flowers Foods also updated its FY 2019 guidance to $0.94-1.02 EPS.
FLO stock traded up $0.07 during midday trading on Wednesday, reaching $21.23. The company had a trading volume of 1,062,484 shares, compared to its average volume of 1,010,274. Flowers Foods has a 1 year low of $17.78 and a 1 year high of $21.87. The company has a quick ratio of 1.05, a current ratio of 1.36 and a debt-to-equity ratio of 0.79. The company has a market cap of $4.49 billion, a price-to-earnings ratio of 22.59 and a beta of 0.49.
FLO has been the topic of several analyst reports. Zacks Investment Research lowered shares of Flowers Foods from a buy rating to a hold rating in a research note on Wednesday, April 10th. ValuEngine lowered shares of Flowers Foods from a buy rating to a hold rating in a research note on Friday, February 8th. Finally, Pivotal Research restated a sell rating and set a $16.00 price target on shares of Flowers Foods in a research note on Thursday, February 7th. One equities research analyst has rated the stock with a sell rating and seven have issued a hold rating to the company's stock. The company has an average rating of Hold and an average target price of $19.20.
In other Flowers Foods news, insider Debo Mukherjee purchased 1,550 shares of the company's stock in a transaction dated Thursday, March 14th. The shares were bought at an average price of $20.20 per share, for a total transaction of $31,310.00. Following the purchase, the insider now directly owns 1,550 shares in the company, valued at approximately $31,310. The purchase was disclosed in a filing with the Securities & Exchange Commission, which is available at
this hyperlink
. Corporate insiders own 8.17% of the company's stock.
TRADEMARK VIOLATION WARNING: "Flowers Foods (FLO) Issues FY19 Earnings Guidance" was first posted by Sports Perspectives and is owned by of Sports Perspectives. If you are accessing this piece on another website, it was illegally stolen and reposted in violation of US and international copyright & trademark laws. The legal version of this piece can be accessed at https://sportsperspectives.com/2019/05/15/flowers-foods-flo-issues-fy19-earnings-guidance.html.
Flowers Foods Company Profile
Flowers Foods, Inc produces and markets bakery products in the United States. The company operates through two segments, Direct-Store-Delivery and Warehouse Delivery. The Direct-Store-Delivery segment produces and markets fresh breads, buns, rolls, tortillas, and snack cakes. This segment offers its products primarily under the Nature's Own, Dave's Killer Bread, Tastykake, Wonder, and Cobblestone Bread Company brand names.
Read More: What is the Book Value of a Share?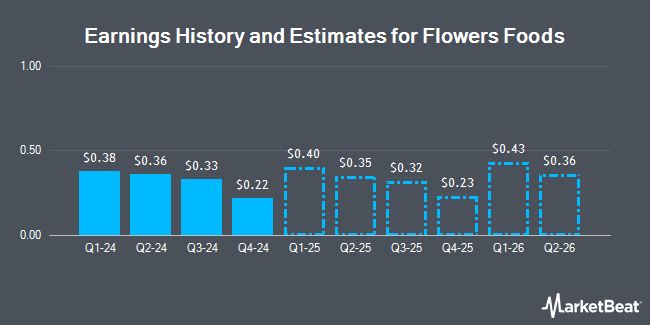 Receive News & Ratings for Flowers Foods Daily - Enter your email address below to receive a concise daily summary of the latest news and analysts' ratings for Flowers Foods and related companies with MarketBeat.com's FREE daily email newsletter.