Steel Dynamics (NASDAQ:STLD) updated its second quarter earnings guidance on Monday. The company provided earnings per share (EPS) guidance of $0.86-0.90 for the period, compared to the Thomson Reuters consensus estimate of $0.94.
Several analysts have weighed in on the company. Citigroup set a $34.00 price target on Steel Dynamics and gave the company a buy rating in a report on Tuesday, June 11th. Goldman Sachs Group lowered their price target on Steel Dynamics from $44.00 to $36.00 and set a buy rating on the stock in a report on Tuesday, June 4th. Bank of America reaffirmed a buy rating and issued a $40.00 price target on shares of Steel Dynamics in a report on Friday, May 31st. Deutsche Bank cut Steel Dynamics from a buy rating to a hold rating and decreased their price objective for the company from $44.00 to $30.00 in a report on Thursday, May 30th. Finally, Credit Suisse Group cut Steel Dynamics from an outperform rating to a neutral rating and decreased their price objective for the company from $38.00 to $29.00 in a report on Thursday, May 23rd. Two analysts have rated the stock with a sell rating, five have issued a hold rating and eight have given a buy rating to the stock. Steel Dynamics currently has a consensus rating of Hold and a consensus target price of $42.54.
Shares of NASDAQ STLD opened at $29.71 on Thursday. The stock has a market cap of $6.36 billion, a P/E ratio of 5.41, a PEG ratio of 0.68 and a beta of 1.46. The company has a debt-to-equity ratio of 0.61, a quick ratio of 2.15 and a current ratio of 4.02. Steel Dynamics has a 1-year low of $25.02 and a 1-year high of $49.70.
Steel Dynamics (NASDAQ:STLD) last announced its quarterly earnings data on Monday, April 22nd. The basic materials company reported $0.91 earnings per share for the quarter, meeting the Zacks' consensus estimate of $0.91. The company had revenue of $2.82 billion for the quarter, compared to analysts' expectations of $2.80 billion. Steel Dynamics had a return on equity of 33.56% and a net margin of 10.26%. Steel Dynamics's revenue for the quarter was up 8.2% compared to the same quarter last year. During the same period last year, the firm posted $0.96 EPS. As a group, equities analysts expect that Steel Dynamics will post 3.48 earnings per share for the current year.
The company also recently disclosed a quarterly dividend, which will be paid on Friday, July 12th. Investors of record on Sunday, June 30th will be issued a dividend of $0.24 per share. The ex-dividend date is Thursday, June 27th. This represents a $0.96 dividend on an annualized basis and a dividend yield of 3.23%. Steel Dynamics's dividend payout ratio is 17.49%.
In related news, insider Glenn Pushis purchased 5,740 shares of the firm's stock in a transaction on Wednesday, June 5th. The shares were acquired at an average cost of $26.13 per share, with a total value of $149,986.20. Following the purchase, the insider now directly owns 91,289 shares of the company's stock, valued at $2,385,381.57. The purchase was disclosed in a filing with the SEC, which is accessible through the SEC website. Also, Director Gabriel Shaheen purchased 5,000 shares of the firm's stock in a transaction on Friday, May 24th. The stock was bought at an average cost of $27.03 per share, for a total transaction of $135,150.00. Following the completion of the purchase, the director now directly owns 58,635 shares in the company, valued at $1,584,904.05. The disclosure for this purchase can be found here. Over the last three months, insiders have purchased 12,740 shares of company stock worth $336,296. 4.90% of the stock is currently owned by insiders.
WARNING: "Steel Dynamics (NASDAQ:STLD) Releases Q2 Earnings Guidance" was published by Sports Perspectives and is owned by of Sports Perspectives. If you are viewing this piece of content on another site, it was copied illegally and republished in violation of U.S. and international copyright and trademark legislation. The original version of this piece of content can be viewed at https://sportsperspectives.com/2019/06/20/steel-dynamics-nasdaqstld-releases-q2-earnings-guidance.html.
Steel Dynamics Company Profile
Steel Dynamics, Inc, together with its subsidiaries, engages in the steel products manufacturing and metals recycling businesses in the United States and internationally. It operates through three segments: Steel Operations, Metals Recycling Operations, and Steel Fabrication Operations. The Steel Operations segment offers hot roll, cold roll, and coated steel products; structural steel beams, pilings, and standard and premium grade rail products; engineered special-bar-quality products; and merchant-bar-quality products, including rounds, angles, flats, reinforcing bars, and channels and specialty steel sections.
See Also: How to Invest in Marijuana Stocks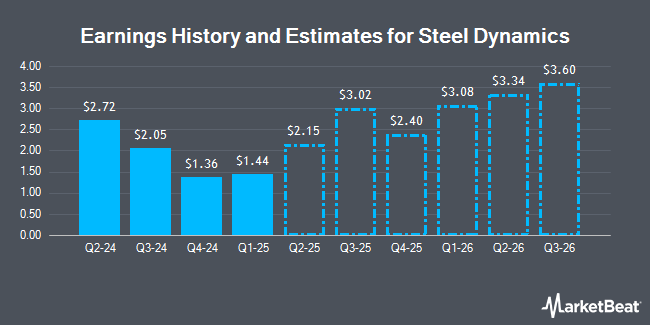 Receive News & Ratings for Steel Dynamics Daily - Enter your email address below to receive a concise daily summary of the latest news and analysts' ratings for Steel Dynamics and related companies with MarketBeat.com's FREE daily email newsletter.